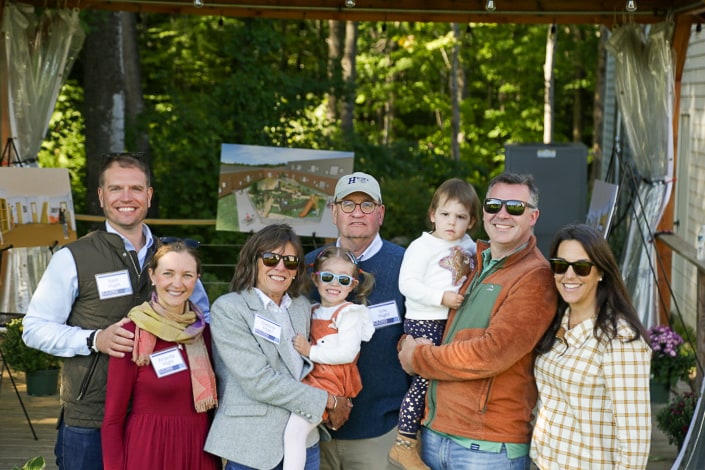 KVCAP announces $1.6 million at their Campaign Kickoff for New School
KVCAP announces $1.6 million at their Campaign Kickoff for New School September 22, 2022 SKOWHEGAN- Sam Hight announced on Saturday that $1.6 million has already been raised for the new Early Learning Center which will be built in Skowhegan. The new Early Learning Center will be built as part of the new elementary school building located near the existing Margaret Chase Smith School site. When built this will be the first birth through grade five school in Maine. "The success of any community is built on the success of its children and families. By focusing on ages zero to five–the most important ages in brain development–this initiative builds the foundation for learning," said Hight on Saturday afternoon to a group of sixty at Bigelow Brewing. "We (The Hight's) are incredibly fortunate that we can give a multi-generational gift to a program that will impact generations of local families. For five generations, the importance of children's well being, education, and supporting the local community has been paramount in the way we do business." Hight is chairing the committee responsible for leading the fundraising effort. Also on the committee are: Erin Merrill, Suzanne Walsh, Tracye Fortin, Gail Gibson, Chelsey Carrier, Rich St. Pierre, Michael Lambke, and Jon Moody. On Saturday, Hight announced that the Hight Family will lead the fundraising with a $500,000 gift. In addition to announcing 100% giving from the campaign committee, Hight also announced leading pledges from The Bill and Joan Alfond Foundation for $500,000, the Skowhegan Savings Foundation pledged $250,000, $100,000 from Ware Butler, $50,000 from Don Skillings State Farm, and $50,000 from the Damon Family. "Skowhegan Savings Bank is pleased to help support this exciting initiative in Somerset County. It aligns well with the bank's mission to make our communities a better place to live and work. Additionally, our Foundation's focus on workforce development makes this a perfect initiative for us to support. Getting these additional resources to the next generation at an early age will help them excel and flourish throughout life," said David Cyr, President and CEO of Skowhegan Savings Bank. The school is slated to open in the fall of 2025, with the Early childhood wing operated by KVCAP, using Educare philosophies, to offer childcare and pre-k education for 160 students. In addition to serving more students, the wing will add an additional fifteen jobs to the region. The Early Learning Center will not only be for instilling the importance of education to For Immediate Release children at a young age, but will provide crucial workforce development, addressing the poverty cycle in Somerset County. "KVCAP has been providing services to families in the Skowhegan community for 57 years. We are proud to be part of this new school, in partnership with MSAD 54, and to have the opportunity to support more children during their first five years of learning as well as to support parents and families as they advance their own education, workforce, and housing goals," said Suzanne Walsh, CEO of KVCAP. To learn more about the campaign and how to donate, visit www.kvcap.org/building-better-beginnings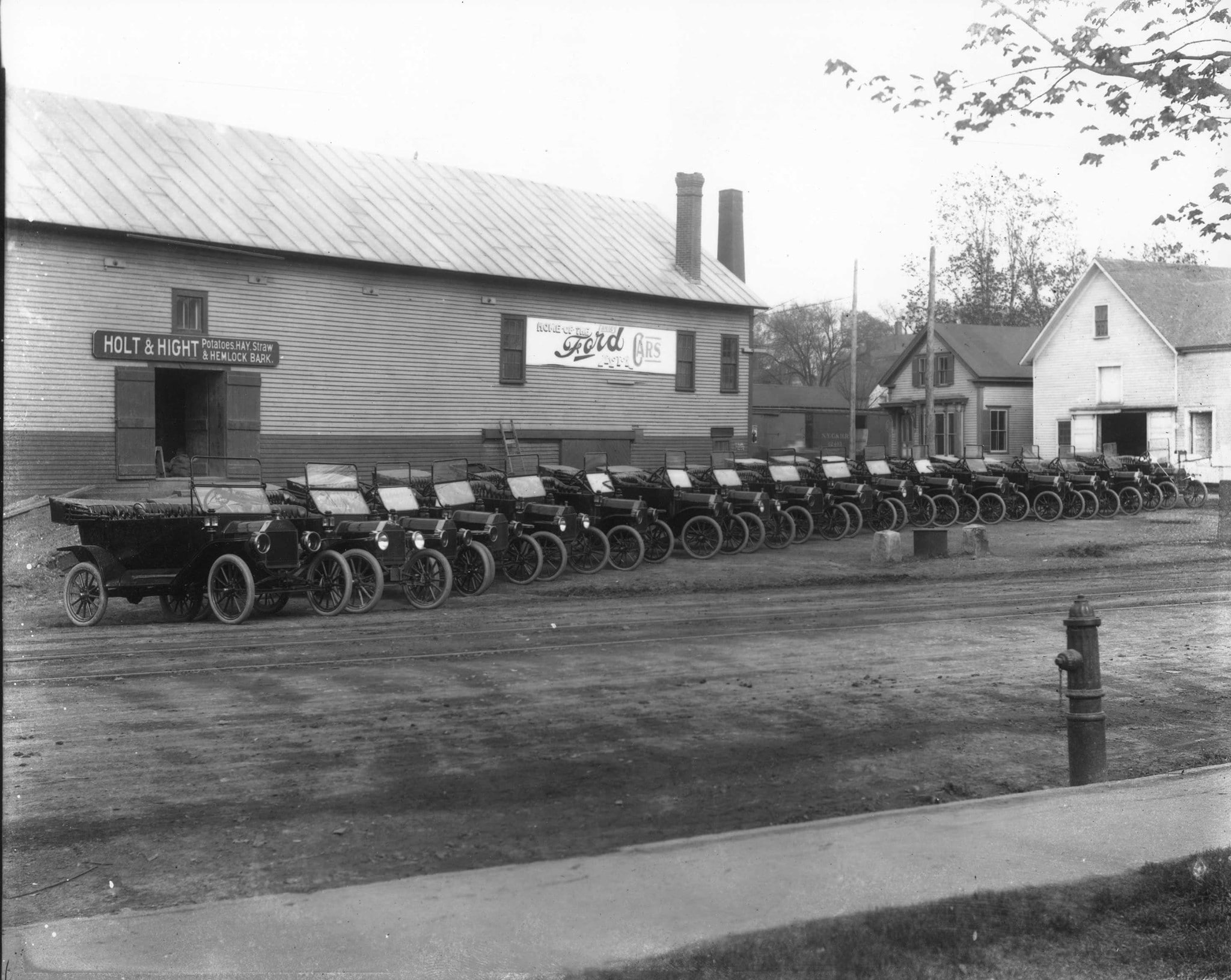 Community Connections
Sam Hight led the way for Hight Chevrolet of Farmington to donate $100 per vehicle sold in October to the Harold Alfond Center for Cancer Care! The Hight family has been supporting their community since 1911, and we are thankful they choose to support the HACCC. Sam, along with his wife Amanda, daughter Hadley and pup Somerset, presented a check for $2,000! 
See Full Story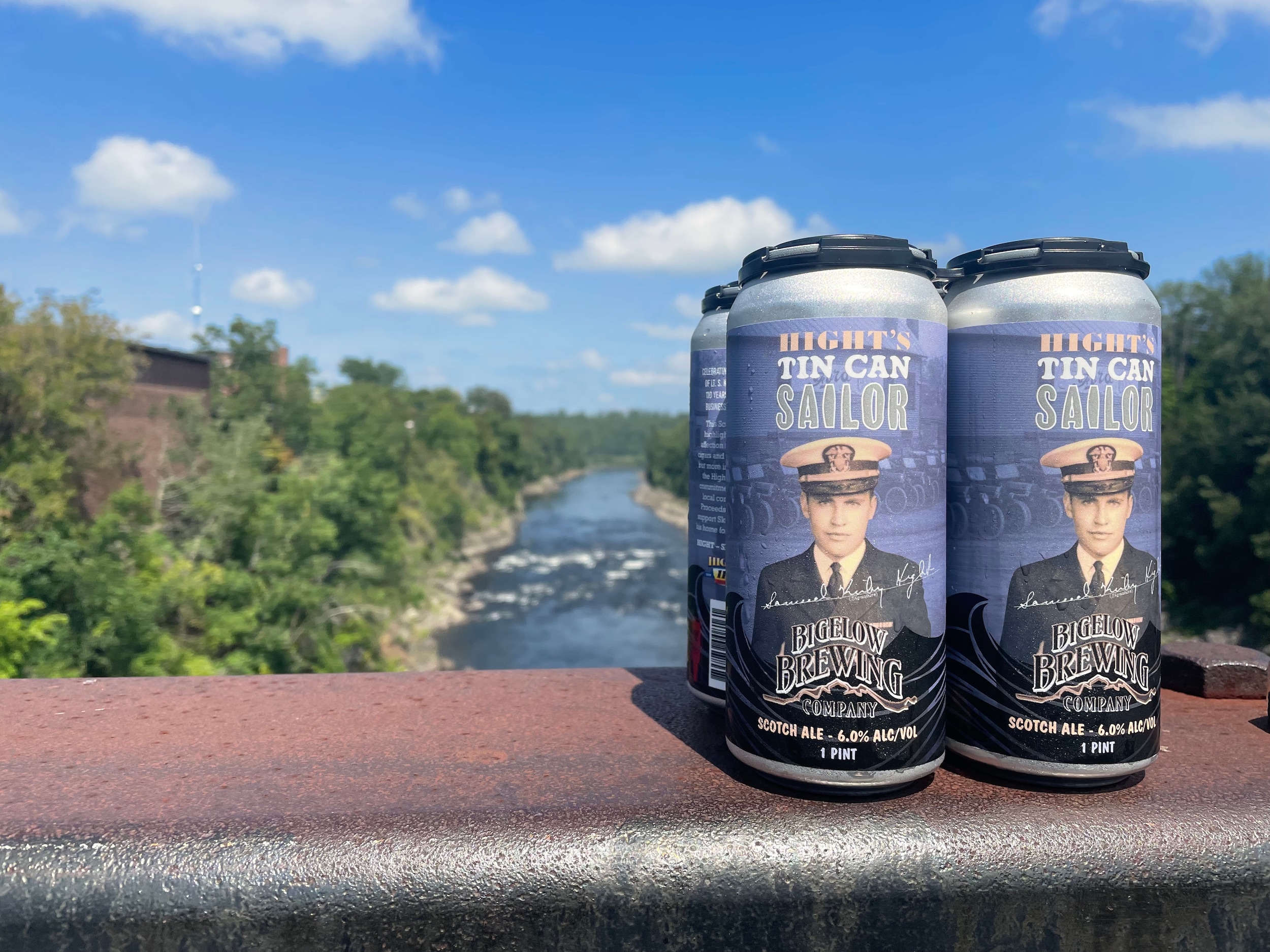 Hight's Tin Can Sailor Raises $5,320 For Local Charities
October 20, 2021, SKOWHEGAN- The Hight Family of Dealerships celebrated their 110 year anniversary in a unique way, brewing a beer with Bigelow Brewing in Skowhegan. In August, the two Skowhegan-based businesses announced their one of a kind beer collaboration, "Hight's Tin Can Sailor," with the Hights pledging to donate $1 for each can sold to local charities in honor of the late S. Kirby Hight. 
The first batch of Hight's Tin Can Sailor, which features a photo of S. Kirby Hight on the label and named to honor his legacy as a war hero and business icon, sold out within four days. The first batch yielded 55 cases, or 1320 cans-giving $1320 to Skowhegan Free Public Library, a charity that Kirby  and his wife Grace were incredibly supportive and proud of. 
With the success of the first batch of beer, Sam Hight, Dealer Principal at Hight Ford, and Jeff Powers, owner of Bigelow Brewing, set out to more than double the production of Hight's Tin Can Sailor and reached out to area businesses and restaurants to make the beer widely available throughout central and western Maine. 
"The first batch was for fun-a homage to my grandfather and a celebration of 110 years of business. Thanks to Jeff and his  Bigelow crew, they made an incredible beer that was well received-with locals,  patrons, and Hight friends asking for more. Jeff was willing to brew an entire 18 barrel batch that has put a great beer for great causes in the hands of thousands of Mainers," said Hight. 
The second batch of an additional 166 cases, or  4000 cans, added a $4,000 donation to four local charities. The Skowhegan Food Cupboard received $1000, board chair, Jennifer Grenier stated that, "These funds will go a long ways and will help provide food for many families that struggle with food insecurity. We wouldn't be able to do what we do on an ongoing basis without assistance from businesses like the Hight Family and are just truly humbled to see the support they give to so many wonderful organizations!"
In addition, Skowhegan Rotary and Main Street Skowhegan both received $1000. "The Hight Family of Dealerships has been a steadfast supporter of our community and of Main Street Skowhegan for many years, and we can't thank them enough for all that they do. We were thrilled to get the news that Sam and his family were donating a portion of proceeds from Tin Can Sailor to our organization. The Hight/Bigelow partnership and tribute to Kirb make this beer special -- it's a great example of community collaboration in Skowhegan, and we're excited to be a part of it," stated Kristina Cannon of Main Street Skowhegan. 
The Skowhegan Rotary Club echoed the sentiments of Cannon,"As a long time member of the Skowhegan Rotary Club, I was especially pleased to accept the donation from the proceeds of the Hight Family of Dealerships' Tin Can Sailor project. The image of my friend, Kirby Hight, on the container reminds me of the many years that Kirb was a member of our Skowhegan Rotary Club and of the many worthwhile community projects in which he took part. Kirby cared greatly about his community and this donation is another example of how there are so many individuals looking out for one another in our area,"said Rotary President, Gail Gibson. 
Lastly a $1,000 donation to Educare Skowhegan helped to kick off the work for the new Skowhegan early childhood education facility. "Educare is thrilled to have Hight Family of Dealerships as a partner in supporting early childhood education in the Skowhegan community.  When businesses support children and families in the community, everyone wins; children receive quality care, parents can go to work knowing their children are safe and learning and employers have employees that are driven and focused," said Erin Merrill Director of Development for Educare Central Maine. 
Hight's Tin Can Sailor is available at 30 different locations from Oquossoc to Portland both on tap at restaurants, retail locations, and of course on tap at Bigelow Brewing in Skowhegan. It was truly a one of a kind project, receiving recognition from the National Automobile Dealers Association Automotive News, MaineBiz, as well as local papers and news stations. In addition, Sam Hight was recognized by the Skowhegan Regional Chamber of Commerce for his impact with none other than the S. Kirby Hight Community Impact Award.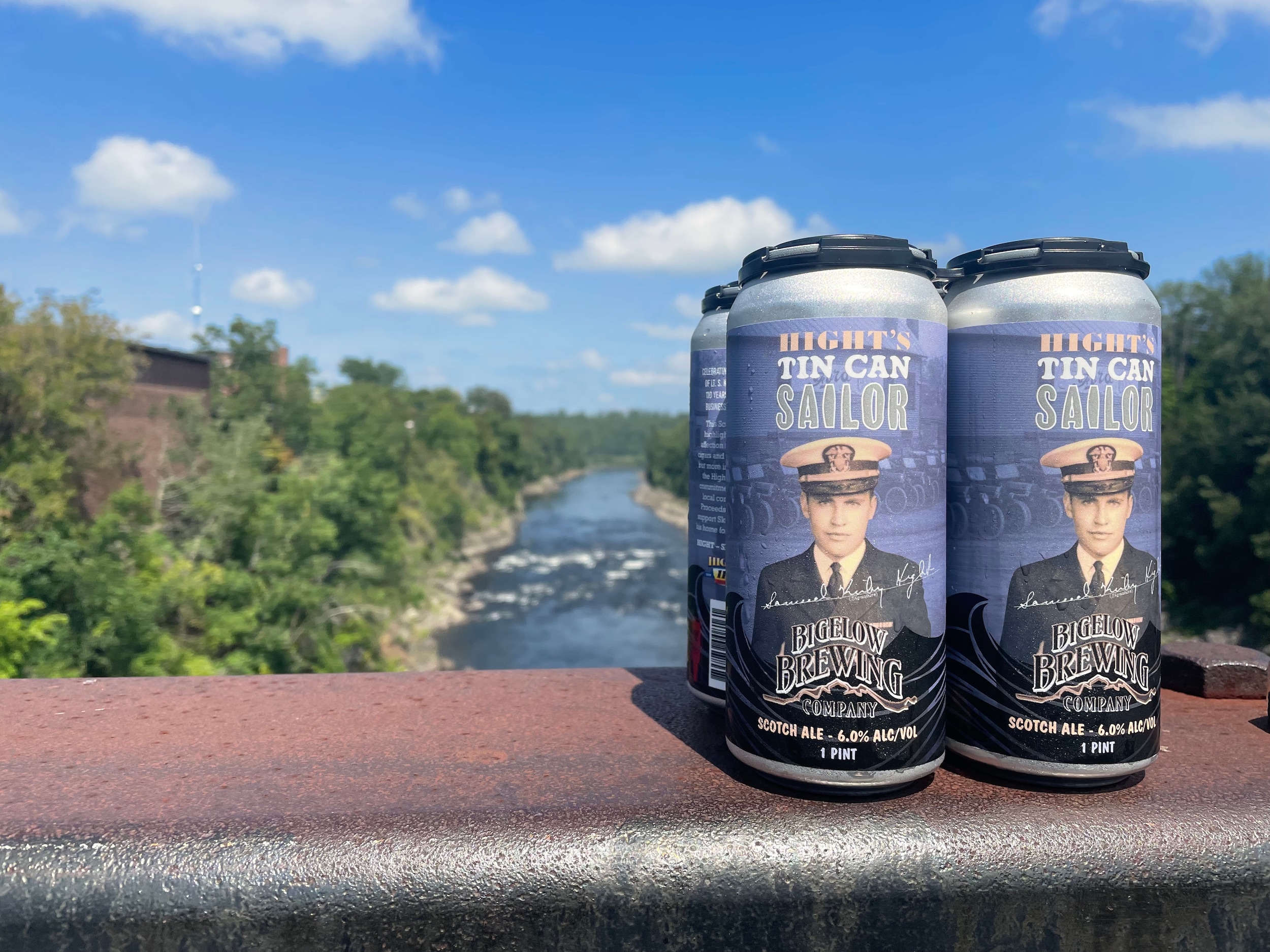 Hight Family of Dealerships and Bigelow Brewing Release a One Of A Kind Beer
August 13, 2021, SKOWHEGAN- The Hight Family of Dealerships celebrates 110 years in business by announcing a beer collaboration with Bigelow Brewing- Hight's Tin Can Sailor-the first known brewery and auto dealership collaboration in the country. Together the two Skowhegan businesses have launched "Hight's Tin Can Sailor" a Scotch Ale honoring the late  Lt. S. Kirby Hight's legacy as a war hero and business icon. Tin Can Sailor-a term use to describe Navy Sailors on Destroyers-plays homage to Kirby's service to his country, and highlights his affectation for scotch, cigars, and most importantly his dedication to the community.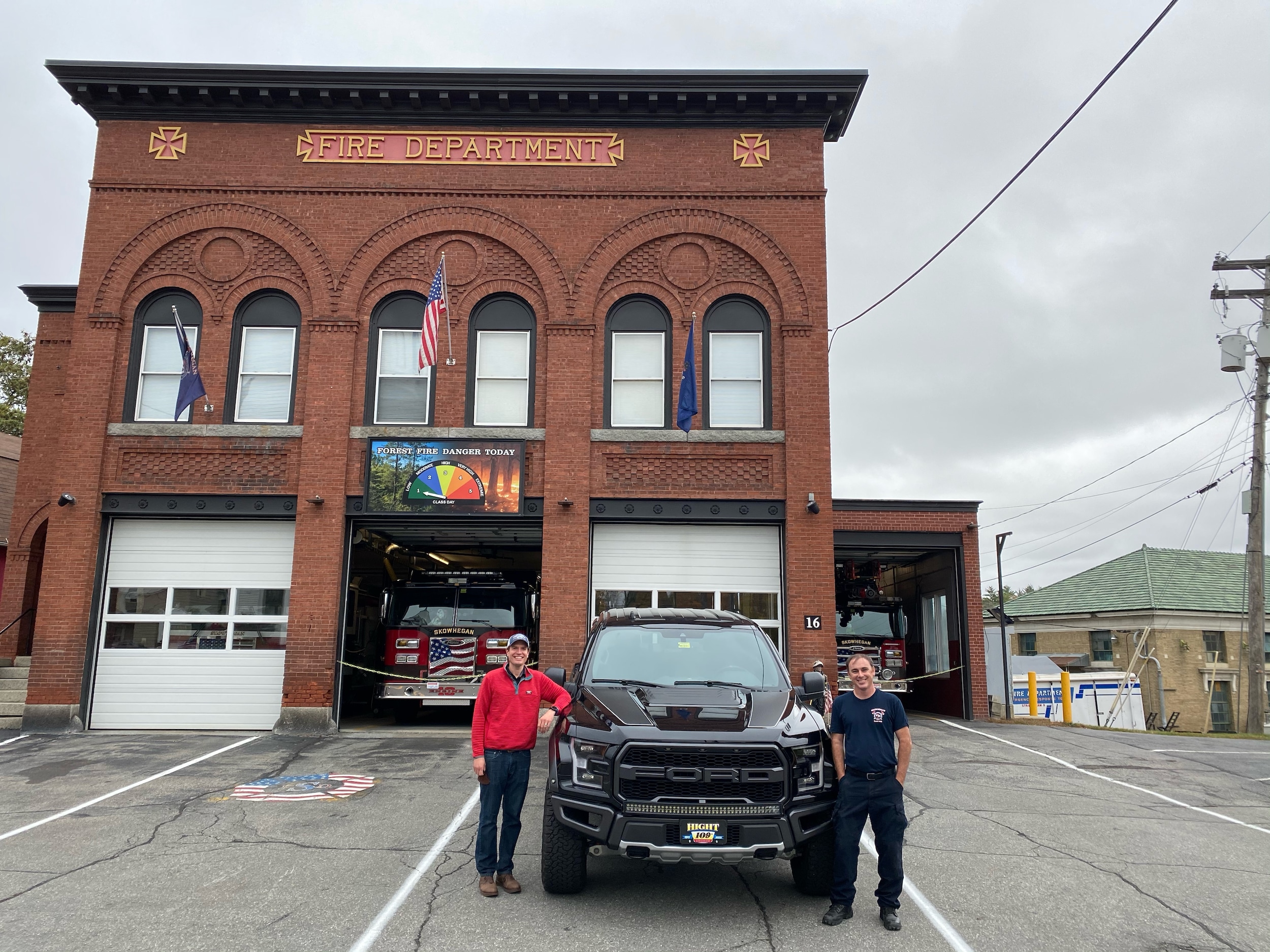 LOCAL CAR DEALER DELIVERS BBQ FIRST TO LOCAL FIRST RESPONDERS
October 2020 (WABI)- Last year, Hight Motor Group here in Skowhegan invited area first responders for a big barbecue celebration to thank them for their hard work. This year due to the pandemic they brought the barbecue to them.
"So what we decided is called Barbecue to go. So I reached out to 19 agencies across Franklin and Somerset County and offered basically a tool kit to have your own barbecue," said Sam Hight
See Full Story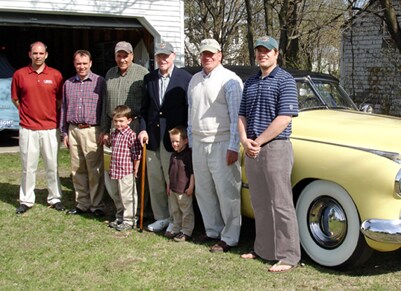 Random Acts of Philanthropy In Rangeley Maine
Hight Family of Dealerships, Skowhegan Savings, Kyes Insurance, and Saddleback Maine team up.
Franklin County, Maine- Sam Hight, of Hight Family of Dealerships pulled together a group of local partners in an effort to support the demographic most impacted by COVID in Franklin County- children. Together with Skowhegan Savings Bank, Kyes Insurance, and Saddleback Maine, Hight was able to quickly raise $16,500 which will be donated to four different non-profit youth programs throughout Franklin County-Rangeley Alpine Ski Club, Rangeley Health and Wellness Kids' Program, Little Mountain School, and Titcomb Mountain. 
Early in 2020, the Hight Family of Dealerships supported Main Street Skowhegan's technical assistance program (TA grants). Hight also spearheaded the newly formed Somerset Economic Resource Council to provide community grants to small businesses impacted by COVID. In total, $120,000 in grant funding was raised to help local businesses keep their doors open. 
"In 2021, it is important to remember who ultimately and undeservingly takes the biggest hit in times like these-our children-the ones we can all learn from. Whether it is their kindness or acceptance of others, or doing their best, not knowing otherwise," Hight said. 
Beginning in late 2020 Hight along with other local businesses supported the ToyRiffic Toy Drive and Sweet Dreams project in Skowhegan- offering toys, pajamas and gifts to local children, local food programs, and gift programs sponsored by Rangeley Fire Department. 
"We are pleased to team up with these businesses and organizations who are like-minded in developing initiatives that help make our communities a better place to live and work," said David Cyr, president and CEO of Skowhegan Savings Bank. "Sam and The Hight Family of Dealerships really stepped up to drive these programs, supporting them is one more way that Skowhegan Savings can help our local communities during these difficult times."
In September, Saddleback Mountain and the Hight Family of Dealerships announced a newly-formed a partnership to help drive a growth in jobs and services for the Rangeley Community. "Rangeley has taken my family in as one of their own, I've wanted to give back to kids' programs which will offer better accessibility, learning opportunities, and focus on healthy outdoor lifestyles, no only to support but as a thank you. I am thankful to have partners that care and are willing to help support this initiative," said Hight. 
Our youth are quickly becoming a "nature deficit" generation," said Andy Shepard, General Manager at Saddleback Mountain. "This generation has prioritized time in front of a screen over time outdoors, and the implications that has for the emotional and physical health of our youth is concerning." "Saddleback is committed to providing year-round opportunities for children to grow up surrounded by outdoor recreation and education." 
According to Leslie White, Executive Director of Rangeley Health and Wellness, "Our children's programs are designed to promote holistic wellness and health of each child. We incorporate components of physical activity, creative expression, and nutrition into our programs which encourage growth and development in a proactive way. Now more than ever, we believe that encouraging healthy behaviors, curiosity and resilience within children is essential for them to become strong community members."
"There are obviously many organizations that deserve the added support. We also cannot forget the local businesses and individuals that have supported these programs for many years," said Hight. "We felt that now was a critical time to help the efforts. Our goal is to raise awareness of these wonderful programs to be good neighbors, and do what you can-give, volunteer, be part of the common good."
Similarly, Kate Philbrick, from The Little Mountain School echoed these sentiments, "Little Mountain School provides an excellent educational foundation for the future of our children. The Rangeley community has been incredibly supportive of our organization, especially as we navigate through uncharted territory."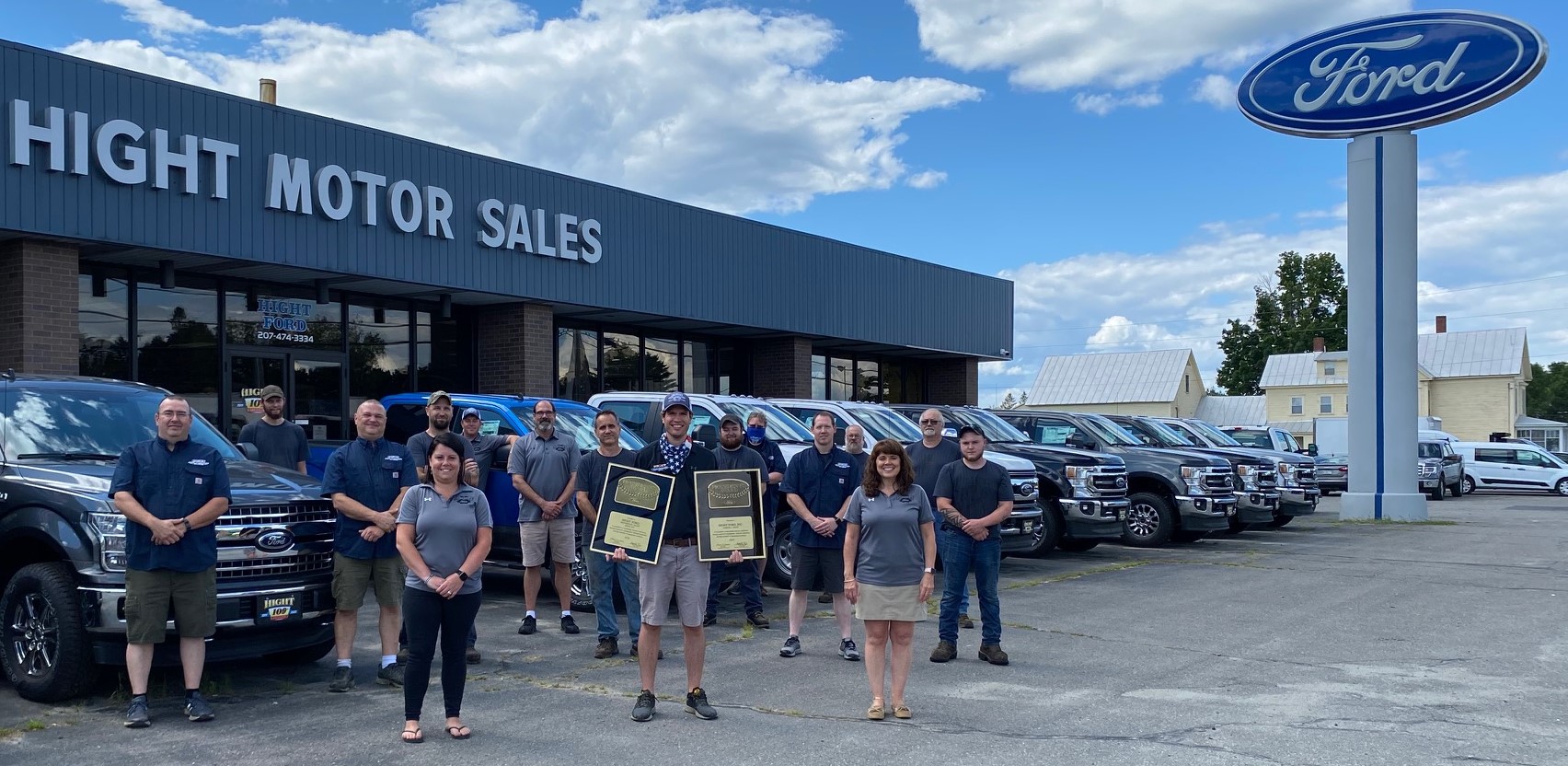 Hight Ford Awarded The Ford Motor Company President's and One Ford Elite Award
August 2020 - Hight Ford is proud to announce that they were awarded the Ford Motor Company President's Award and the One Ford Elite Award for 2019. This recognition places Hight Ford amongst a cohort of only 1% of all dealers in the country who won this combination of awards. Hight Ford also won the President's Award in 2016.
See Full Story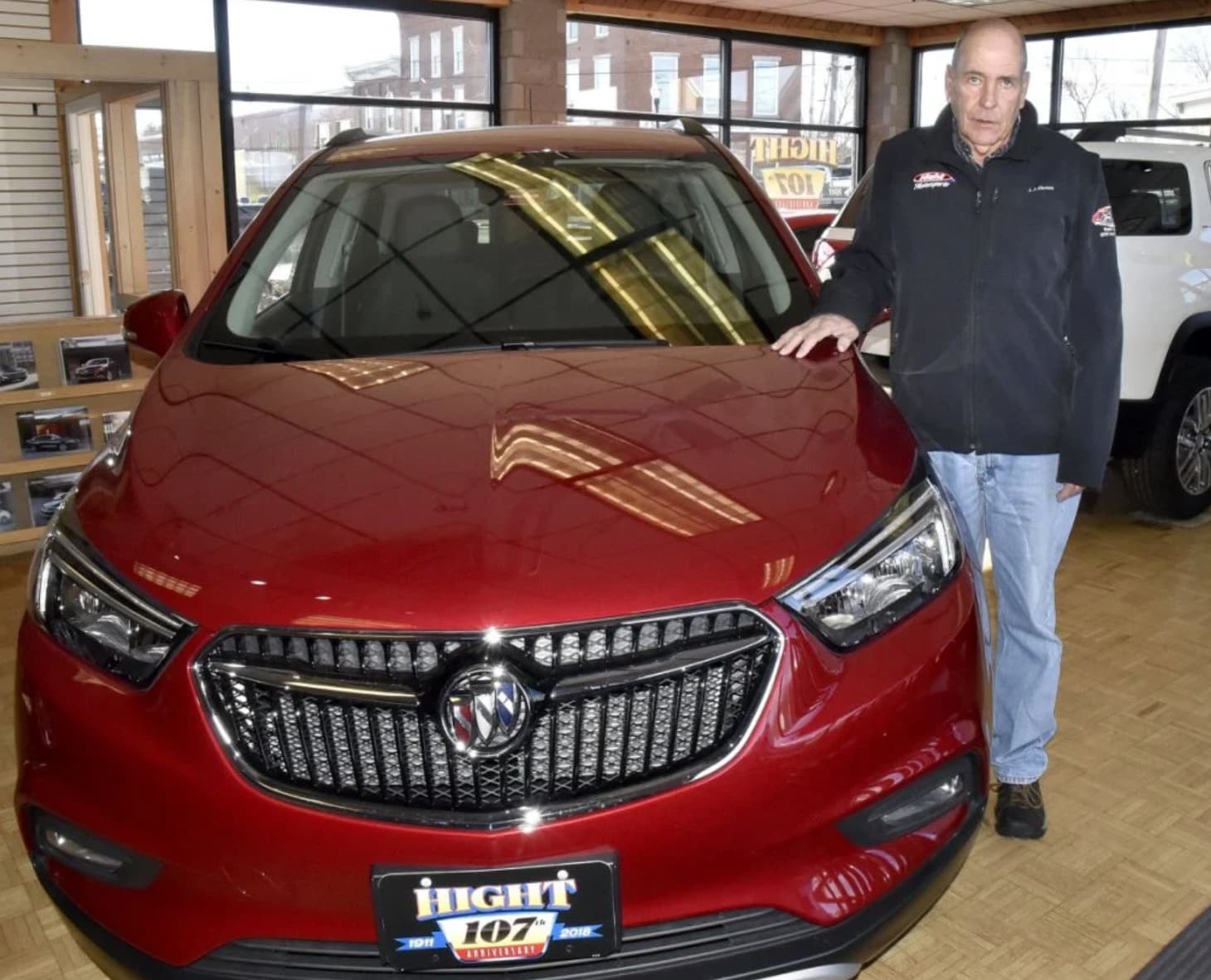 Skowhegan Chamber honors Walter Hight with most Dignified Award
Skowhegan - The Alton W. Whittemore Award for outstanding service will be presented to Hight along with awards to others at the Thursday night banquet.
See Full Story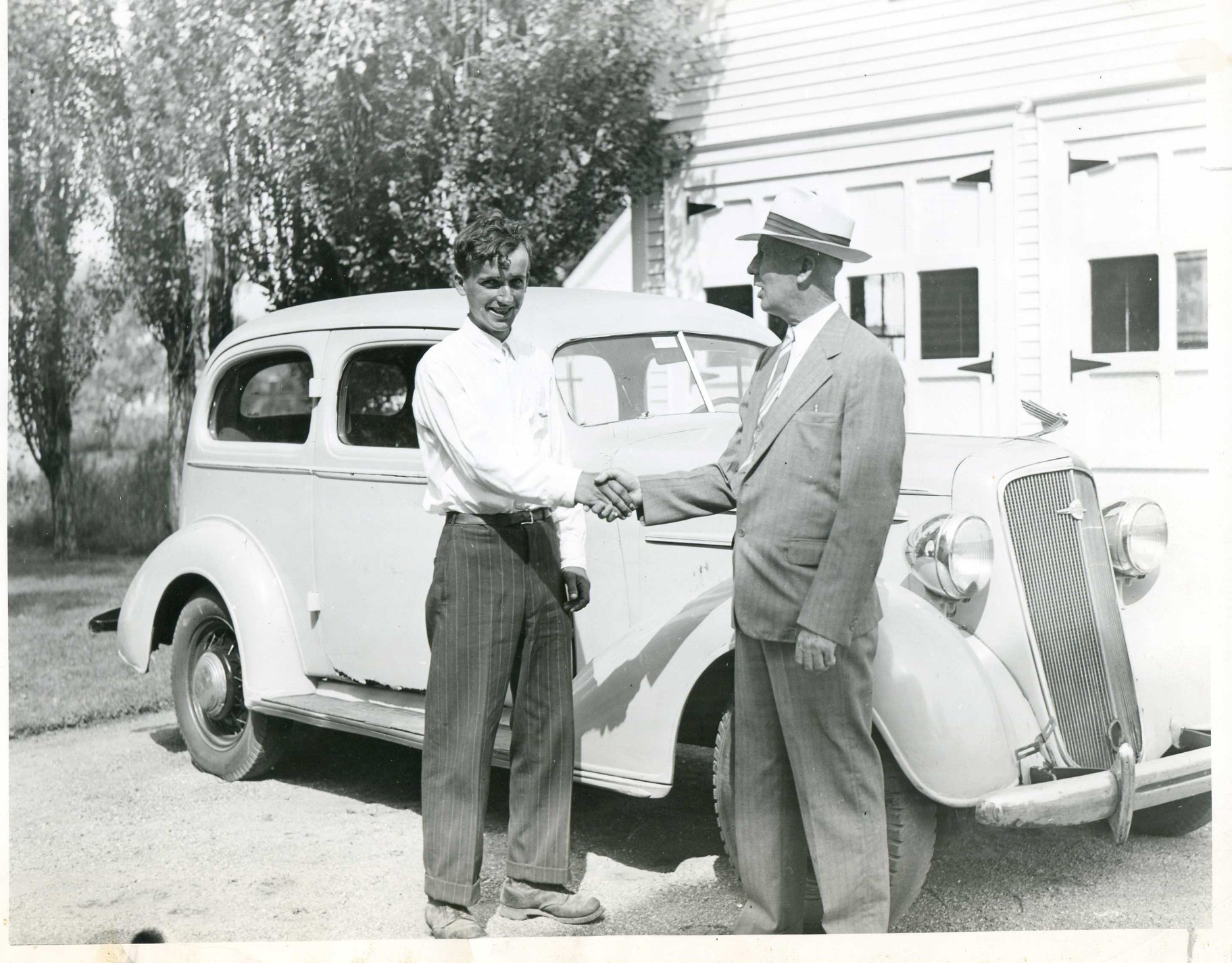 Hight Family Of Dealerships
January 2017 | Celebrating 106 Years, Hight Family of Dealerships Is Beating the Odds.
See Full Story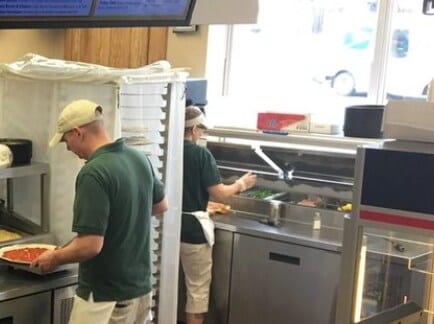 Local Businesses Donate Goods To officers Involved In Manhunt
…"A lot of these guys are friends, customers, and they're just good people," Sam Hight, of the Hight Family of Dealerships said. "We just wanted to do whatever we could to help out in a time like this when they shouldn't have to think about eating."
See Full Story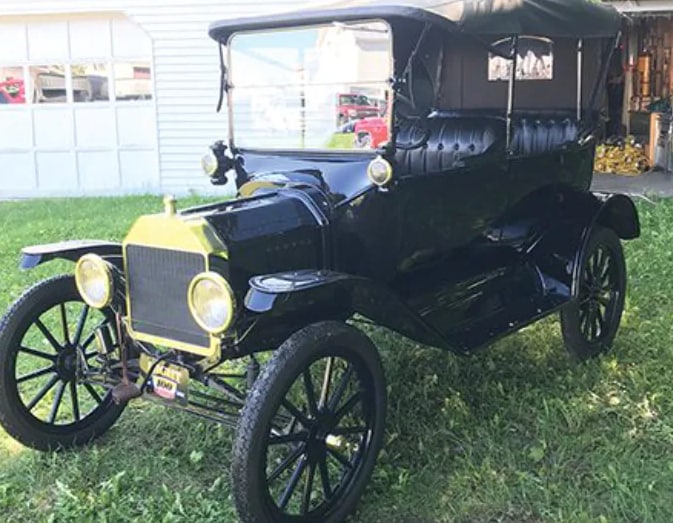 Hight Family Shares 70 Car Collection of restored antiques
Display commemorates the 200th anniversary of the fair. 
See Full Story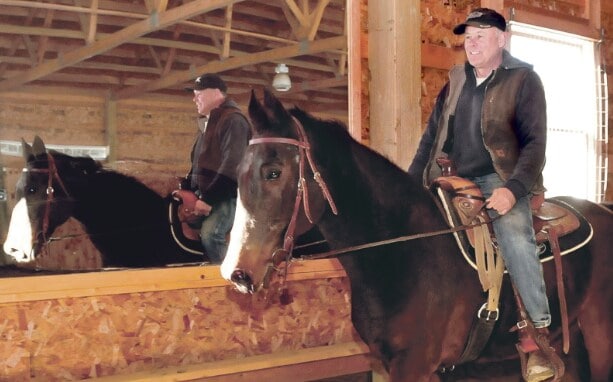 Postcard Jack Trains As Saddle Horse After Winning Skowhegan Race Career
The winningest standardbred horse in Maine state history was named after John Garbarino, who sent thousands of postcards over three decades to a Madison restaurant.
See Full Story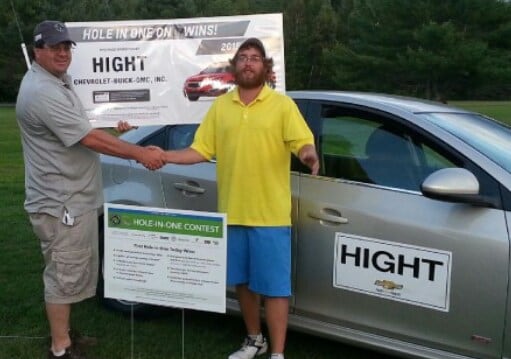 Memorable Hole In One
Sangerville man wins car with memorable hole-in-one, gives it to his mother…
See Full Story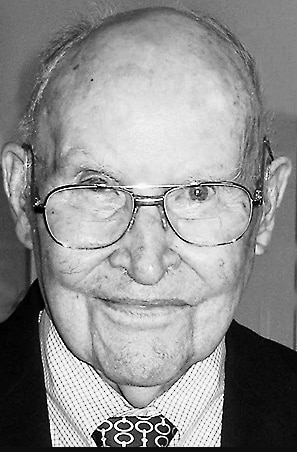 Skowhegan Selectman Dedicate 2017 Annual Report to Kirby Hight
Hight lived on the same street for 102 years, grew the family's automobile dealerships and supported community organizations from Little League to one-act play competitions.
See Full Story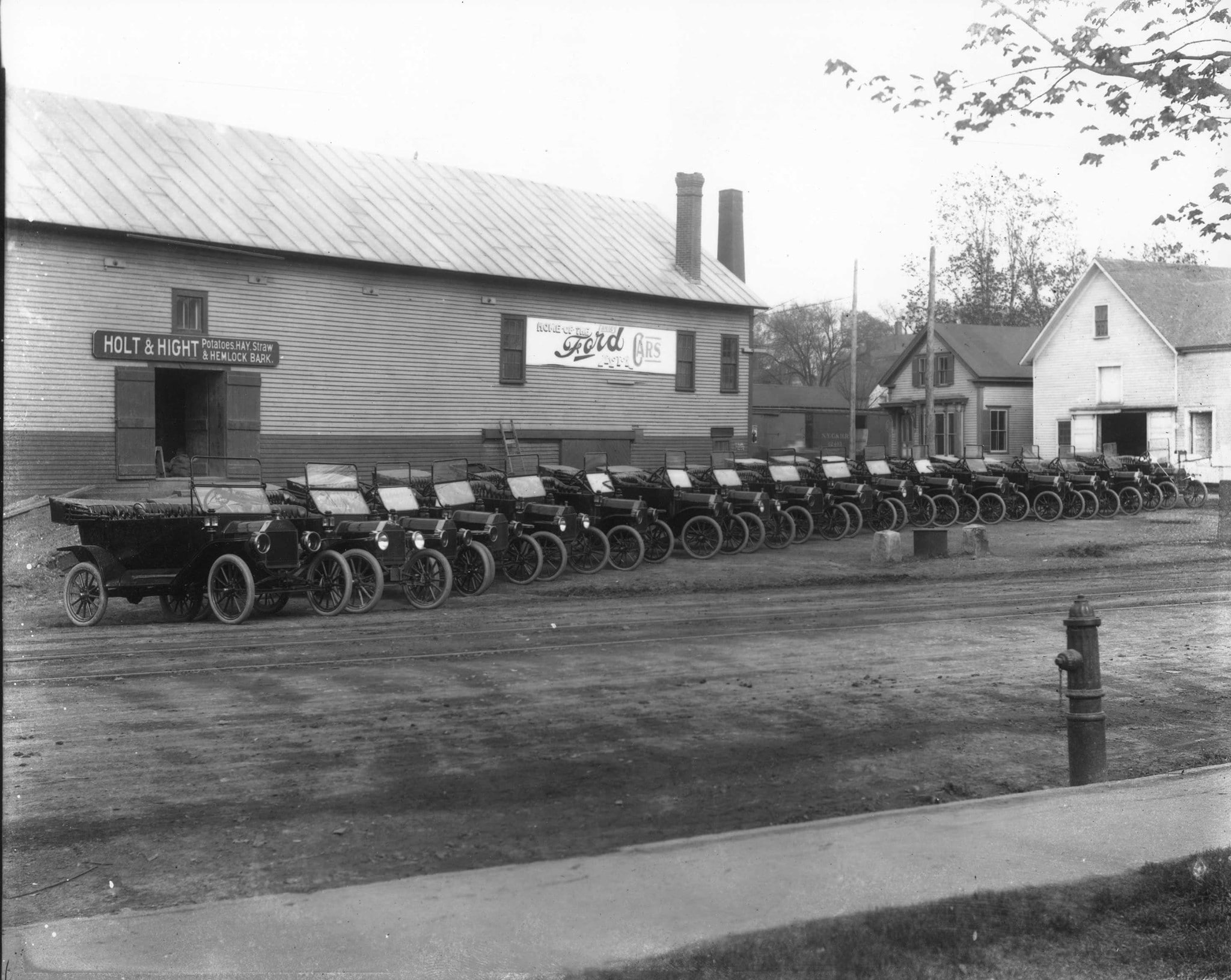 On Ramp: Why Buy From Hight
A great vehicle selection, and commitment to customer service have been the keys to 107 successful years.
See Full Story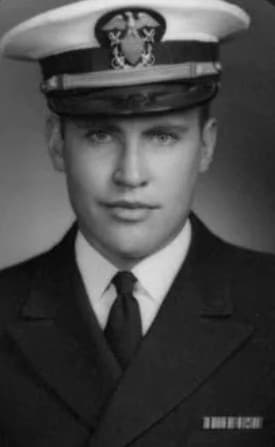 Skowhegan Annual Report 2018
Samuel Kirby Hight, to whom this Town Report is dedicated, exemplifies what is right about business and family in Skowhegan. 
See Full Story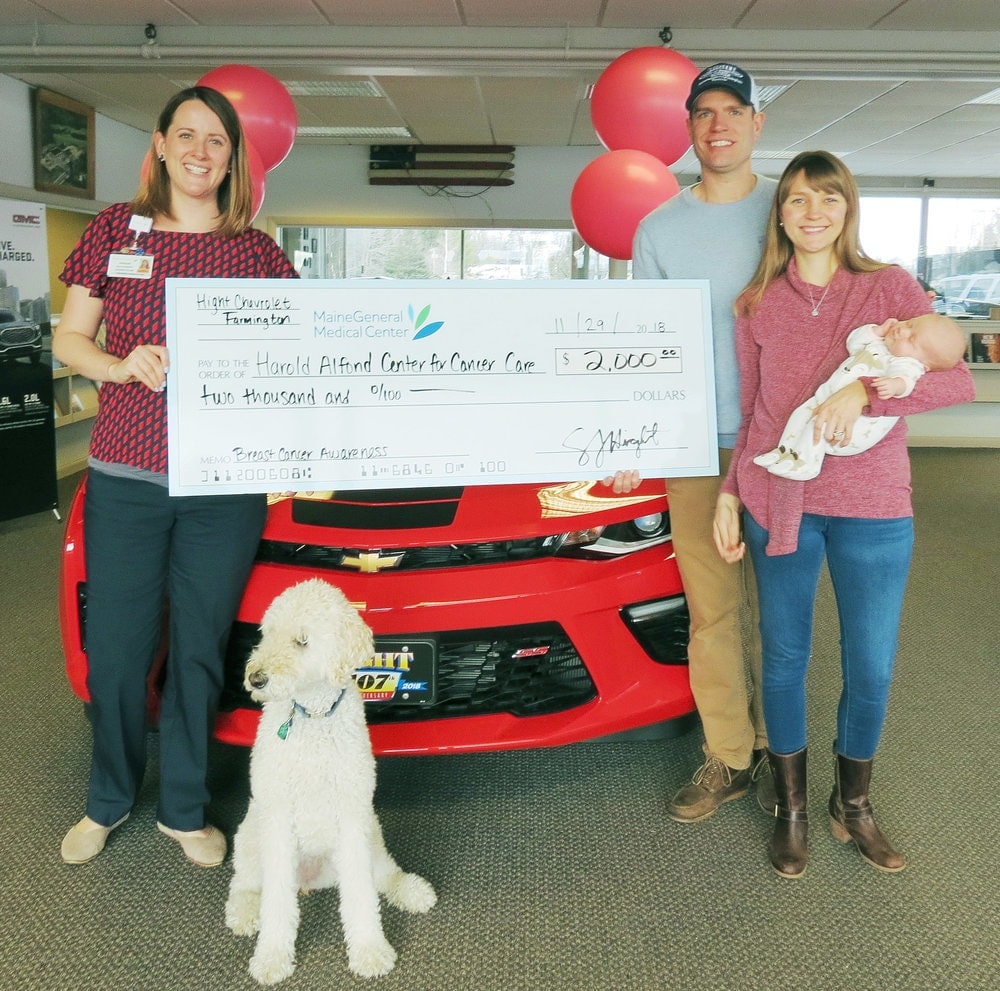 Community Connections
Sam Hight led the way for Hight Chevrolet of Farmington to donate $100 per vehicle sold in October to the Harold Alfond Center for Cancer Care! The Hight family has been supporting their community since 1911, and we are thankful they choose to support the HACCC. Sam, along with his wife Amanda, daughter Hadley and pup Somerset, presented a check for $2,000!